Jioufen Photograph Gallery
It is said that long time ago there were only nine families in Jiufen (九份). Before the roads on land were built, all materials were transported via ships. Thus a habit was formed that nine pieces of same object were purchased at one time for reservation. Hence, the place was called Jiufen .
Jiufen used to the center of gold mining. It is located within the hills in northeast of Taiwan. The village is next to the mountain and facing the sea. In 1890, someone struck gold near Jiufen. The poor village with only nine families soon attracted prospectors of 4,000 families. The village once was gold city of Asia and called little Shanghai or little Hong Kong. However, with the decline of gold mining activities, Jiufen fades. Later, several movies chose to shoot here and the movies won international acknowledgement. For example, the film the Sad City has won first prize in Venice Film Festival and awakened people's memory of Chiufen. It seems that the prosperous old streets, buildings, mines and the glamorous gold digging days are flashing before our eyes. The place is whispering its golden past. Now, there are many unique teahouses in Jiufen. These teahouses are best stops during visit to this mountain village. Also, there is the beautiful ocean view of Keelung outer sea.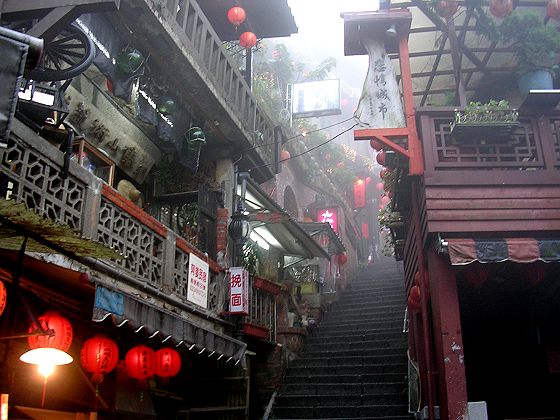 Map of Jioufen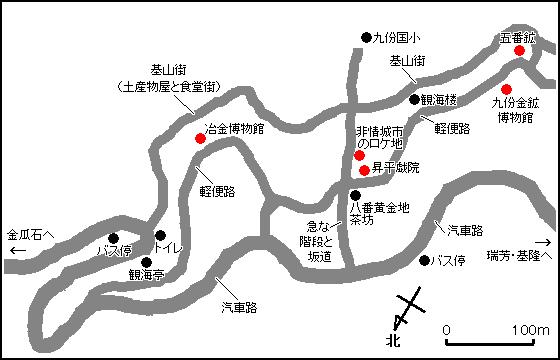 Copyright © 2005-2020 Taiwaning. all rights reserved.