Alishan Forest Recreation Area Photograph Gallery
Mount Ali is very famous for the sunrise view and the cloud ocean. The clouds are so dense and thick that the mountaintops appear like islands on the cloud ocean. The best time to watch the cloud season is autumn and visitors can go to Tse Yun Temple, Mt. Ali Hotel, Mt. Ali Rail Station, Tzao Ping Park, Chu Shan Kuan Ji Li and the first parking lot. In addition, the Mt. Ali Rail is also very famous because it is one of the three mountain rails in the world.
The Sister Ponds are supposed to be the manifestation of two aboriginal girls who died for love. The two ponds are about 50 meters apart. The larger is 528 square meters in size, with an island on which there is a cypress tree stump that has been converted into a pavilion. It can be reached by a bridge from the edge of the pond. The second pond is only 66 square meters in size. To its right is one of the most densely grown natural cypress forests in the whole area.
Shoujen Temple, reconstructed in 1969, is the biggest temple in the area. The temple is dedicated to the Lord of the Somber Heavens , the Earth God, and the Goddess of Birth . According to local folklore, each year during the week before the third day of the third lunar month, three silkworm moths settle before the alter for about a week before flying off again.
The Buddhist Tszyun Temple was built in 1919. It contains a statue of Shakyamuni Buddha which is made of bronze and filled with gold dust. It was originally given to the Japanese emperor by the King of Thailand in 1918; the emperor later sent it to Alishan, because Alishan stands opposite the imposing peak of Yushan--a mountain that is higher than Mt. Fuji.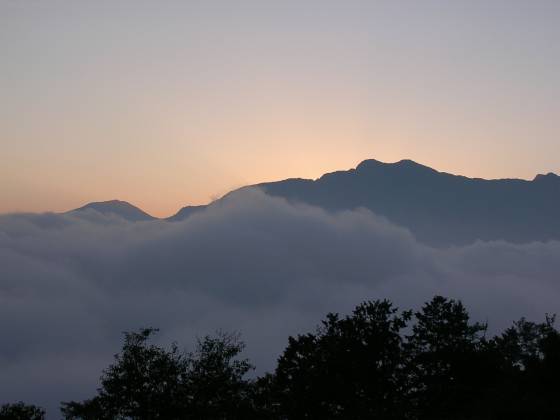 Map of Alishan Forest Recreation Area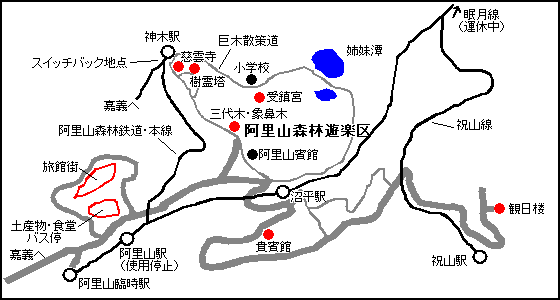 Copyright © 2005-2020 Taiwaning. all rights reserved.